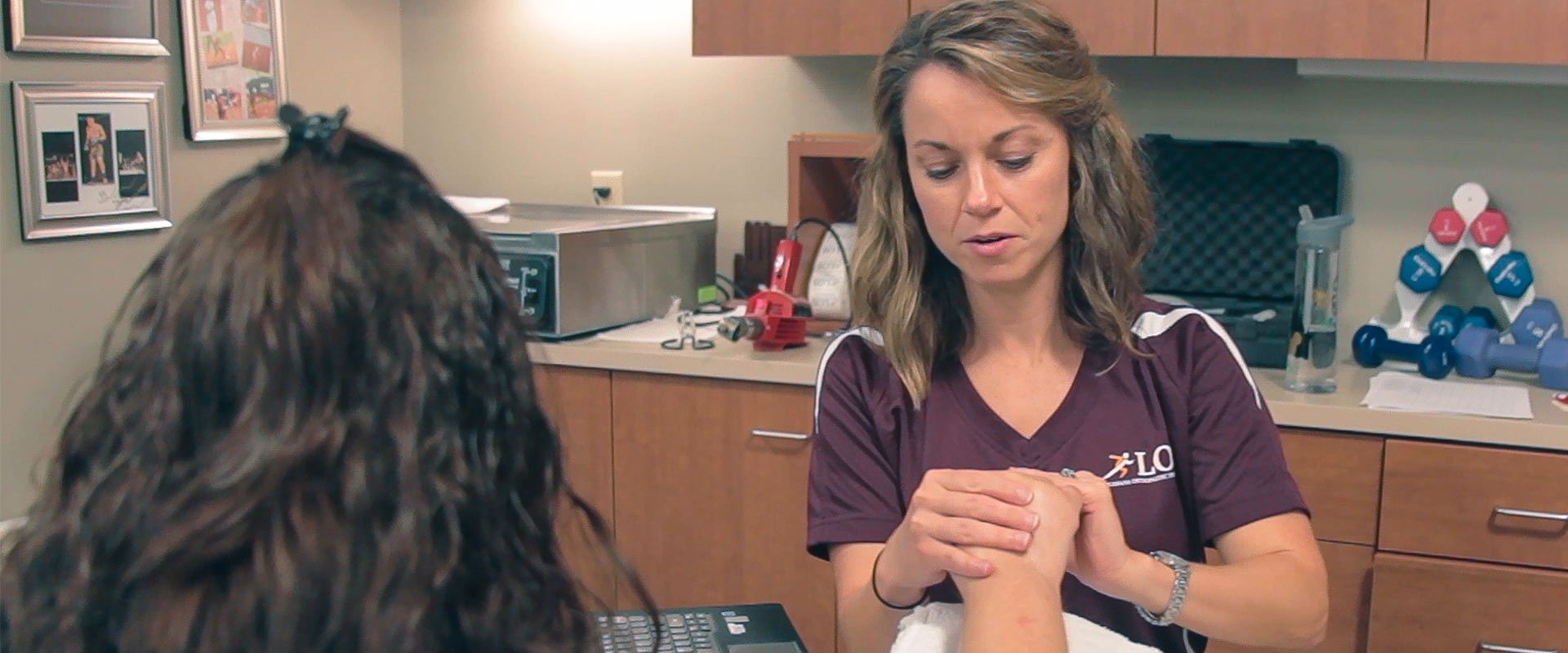 What is Hand Therapy
American Society of Hand Therapist Definition of Hand Therapy:
"Hand therapy is the art and science of rehabilitation of the upper extremity of the human body. Hand therapists are occupational therapists or physical therapists who, through extra training and experience, have specialized knowledge of upper extremity function. Using specialized skills in assessment and treatment, hand therapists work with their clients to prevent injury or impairment, restore functional activity, and enhance participation in daily life." *
*Adapted from the Hand Therapy Certification Commission
What is a Certified Hand Therapist?
A Certified Hand Therapist (CHT) is an Occupational therapist or Physical therapist who, through advanced study and experience, specializes in treating individuals with conditions affecting the hands and upper extremity. The CHT designation is conferred after the requirements of a minimum of 5 years practice as a therapist, 2000+ hours of direct hand therapy work, and satisfactory score on the certification exam. Certification is maintained through meeting specific continuing education requirements and continued satisfactory work experience.
What does a Hand Therapist provide?
A qualified hand therapist can evaluate and treat any problem relative to the upper extremities. The hand therapist can effectively treat and rehabilitate the patient through postoperative rehabilitation, preventative, non-operative, conservative treatment, or industry consultation. The therapist works closely with physician and patient to provide a continuum of care. This often starts within days of the injury or surgery right through to the patient's return to work and/or a productive lifestyle.
Postoperative Rehabilitation
Management of open or sutured wounds (prevention of infection and assistance in healing)
Control of hypertrophic (raised and/or swollen) or hypersensitive scars
Reduction of swelling
Protective custom splinting
Restoration of motion and strength
Preventative, Non-operative, or Conservative Treatment
Management of acute or chronic pain
Desensitization following nerve injury or trauma
Sensory re-education after nerve injury
Design and implementation of exercise programs to increase motion, dexterity and/or strength
Splint fabrication for prevention or correction of injury
Training in the performance of daily life skills through adapted methods and equipment
Conditioning prior to returning to work
Industry Consultation
Hand therapists may consult with various industries establishing preventive programs for workers with cumulative trauma disorders. Hand therapists recommend modifications of workstations and alternative work methods to help ensure healthy work styles of all employees.Why use a Hand Therapy specialist?
Accurate assessments, immediate care, and effective treatment reduce treatment time.
The continuum of care eliminates the need for multiple medical providers.
Faster recovery results in decreased medical costs.
Resulting functional outcomes ensure a faster return to work and productive lifestyle.
Hand therapists – both occupational and physical therapists – enhance the skills of others to provide the most comprehensive care for their patients.
Where do Hand Therapists work?
Hospitals
Rehabilitation centers
Industrial medicine facilities
Privately owned therapy clinics
Sports medicine facilities
Academia
Who is a candidate for hand therapy?
Patients with the following conditions may benefit from hand therapy:
Acute or Chronic pain conditions
Patients affected by an accident or trauma
Loss of motion, strength, and/or functional use
Scars, burns, and injured nerves
Fractures
Amputations of fingers, hands, or arms
Patients suffering from conditions such as carpal tunnel syndrome and tennis elbow
Arthritis
Neurological conditions (stroke)
If you feel you may benefit from the services of a Certified Hand Therapist, contact Louisiana Orthopaedic Specialist Rehabilitation Department at 337-235-8007Patient Education brochures
To open the Adobe PDF files you require an Adobe Acrobat Reader. If you do not have a copy, you can obtain a free copy of the Reader from the Adobe site. Click on the Adobe logo below go download the Adobe Reader.
PDF documents are automatically opened within a new browser window when you select a topic below.
To save a copy of the handouts, right-click on the link to the file you wish to save. Select "Save Target As" (Internet Explorer) or "Save Link As" (Netscape). You will then be asked for a location to save the file.
To print a copy of a PDF handouts, select Print from the File menu and select your print options